Granada Aussies ....

More of our Past Dogs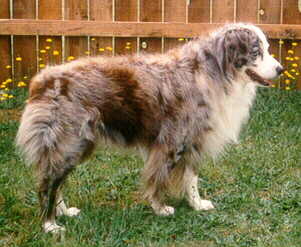 Fairoaks Vigilante   -

1982 - 1994

A linebred grandson of Ch. Chulo Rojo of Fairoaks, "Ranger" was one of our buddies from 6 months of age until his death at 12 1/2 years of age.  He's the sire of Ch. Granada's Mad Max,CD and Granada's Molly MaGee,CD, grandsire of our "Libby", and great grandsire of our "Kipp",  "Dixie", "Jet", and "Rowdy".

Some companions from our past that are still very much missed!.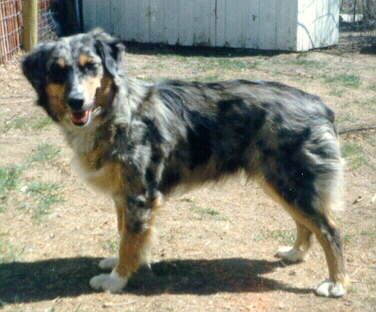 Voelker's Silver Shannon,CDX  -

1976 - 1995

"Shannon" was our first registered Aussie, and a great obedience dog!  Coming from "old" working lines, Shannon's sire, Stapel's Festus, was  a double grandson of J-Bar-D Blue Boy,  and her maternal grandsire was Taylor's Buckeye Brandy (Ch. Slash V Buckeye Bobby ex Taylor's Daisy, a "Whiskey ex Leslie" daughter)

A more intelligent, loyal dog would be hard to find!  She was an avid tennis ball player until she finally slowed down at about 17 years of age.  Shannon died 2 months before her 19th birthday!


Granada's Taco Belle, CD

1979 - 1995

"Taco" was from our first home-bred litter, out of Voelker's Silver Shannon,CDX and sired by Flying X Half Hitch,CD/

She was a part of our family for her entire life, and a great little companion.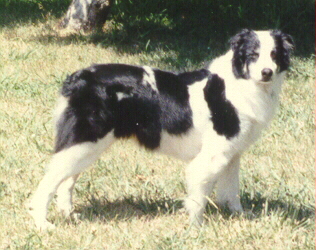 Shep

1974- 1990

Shep was an "Aussie" of questionable background  - possibly an Aussie/Border Collie mix.  He was our first dog,  and our introduction to the Australian Shepherd breed.  He was very intelligent, loyal, and a super frisbee dog!  We still miss him!